Rolling Mil Parts
2 HI / 3 HI MILL STANDS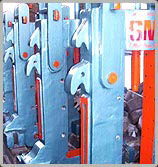 The Heavy duty Mill stands are built of Steel Caster / Steel Fabricated / C.I. Caster properly machined and fitted. Theses mill stands available in fiber bearing and antifriction bearing type complete with pressure bolt and bars.
Technical Specification :
Available 2 hi / 3 hi / 4 hi.
Material Constructed will be of Cast Iron\Steel Cast\Steel Fabricated.
Fiber bearings and antifriction bearing both type.
Open top or close design.
Heavy duty mill stands available.
Complete with (As customer desired) :
- Upto fitting with pressure bolt and rest Bars.
- Foundation rails and shoe bolts
- Chocks and rest bars
Salient Features :
Compact and simple design.
Fully machined and accurately aliened
HOT AND COLD SHEARING MACHINES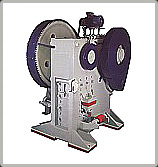 The hot and cold shearing machine are fully designed in sturdy cased steel fabricated body, gears are fully hardened for long run and teeth cut out in well maintain lubrication for unique clearance. leading suppliers of hot shearing machine manufacturer, cold shearing machine wholesalers, hot shearing machine wholesalers, rolling mill parts manufacturer, rolling mill machinery, rolling mill equipments exporters, rolling mill parts distributors, hot rolling mill suppliers, material handling equipment exporters, mechanical equipment manufacturers, industrial machine tools suppliers. The cutting blades are of carbon steel fully tempered. Usually these shearing machines are rolling mills duty used for cutting heavy billet, hot Bars, structure as angle & channel, plate scraps, TMT bundle cutting etc. Snap shear are also available for cutting hot rolling during brake down / Mis roll
Technical Specification :
Billet Shearing Machines
Bars & Section Shearing Machines
Hot & End cutting Shearing Machines
Scrap Cutting Shearing Machines
TMT Bundle Cutting Shearing Machines
Plate & Sheet Cutting.
Snap Shear
Salient Features :
Steel fabricated sturdy cased body.
Fully hardened EN19 gear.
Tempered carbon steel cutters
C.I. caster flywheel.
Anti friction bearing and gun metal bush
Fully Machine EN8 Shafts.
Lubrication system